Ask those around boxing if Mayweather-McGregor is good for the sport and they'll give you different answers.
Some think it's great. Others think it's nothing more than a farce that only a sucker would pay $100 on Pay-Per-View to watch.
But the one thing those closely associated with boxing can almost universally agree on is the idea that Conor McGregor, the MMA superstar who will challenge an undefeated Floyd Mayweather Aug. 26 in Las Vegas, has almost no chance of winning.
To them, it's not a matter of if Mayweather will win, but rather how.
"If [Mayweather] wants to stop it in the first round, he can stop it in the first round," four-division champion Adrien Broner told us last month.
McGregor is stepping onto Mayweather's turf and agreeing to box him under very specific terms, so the list of reasons why so many in the sport refuse to give McGregor a realistic shot to hand Mayweather his first professional loss is long. And often extremely specific.
While McGregor and Mayweather circled each other for years before making the fight official in June, McGregor's only been seriously training as a boxer for a few months. And from what we've seen on social media and heard from the mouth of his sparring partner Paulie Malinaggi, the results haven't been particularly impressive.
The idea that a novice to the sweet science and all its nuances can just step into the ring and take down the legendary Mayweather, considered to be the best modern-day defensive boxer and among the all-time greats, is almost impossible to fathom.  
"When the bell ring nobody knows that squared circle like me. I know angles. I know where to touch you at. I know what you do good. I know what you don't like. And I don't have to watch tapes. That's something I'm blessed with." — FLOYD MAYWEATHER
"Not an insult, but there are C-class fighters in my business that I know would handle [McGregor] easily," says ESPN boxing analyst Teddy Atlas. "This is the lowest level fighter [Floyd's] probably ever fought. I'm not trying to insult MMA guys or McGregor. I think McGregor's a genius. But at the end of the day this is not an elite athletic contest that some people want to believe it is."
It's the simple things, many point out, that will likely doom McGregor. Jermall Charlo, who awaits his shot at the winner of the Gennady Golovkin-Canelo Alvarez fight in September, is not the most neutral of observers considering his ties to Mayweather Promotions. But speaking from a strictly analytical perspective, the 28-year-old rising star thinks McGregor's footwork will cross him up.
""I don't think technically McGregor stands a chance," says Charlo, one of boxing's top middleweight contenders. "He's going to trip over his feet more than he's going to get in shots. He's going to be all sloppy all over the ring and hopefully he don't get frustrated to throw an elbow or kick in there and get disqualified."
Reportedly there are financial reasons outlined in the contract as to why it would be in McGregor's best interest to not do that. But how much will McGregor, who has been programmed to punch, kick, grapple, and violently force his opponents to submit, be forced to suppress those natural instincts? And how will he adjust to fighting 12 rounds, three minutes at a time? McGregor's used to fighting fewer rounds and much briefer segments.
"The reason Conor shouldn't have a chance is he's not a professional fighter," says Atlas. "He's never competed at this realm. He does it in segments, but not for 12 rounds. Mayweather does it for an eternity."
Those who think McGregor has a chance, or believe he will win, point to the age difference, size difference, and his impressive punching power. But Atlas, having studied McGregor, thinks the x-factor will be the altered persona McGregor carries into the ring.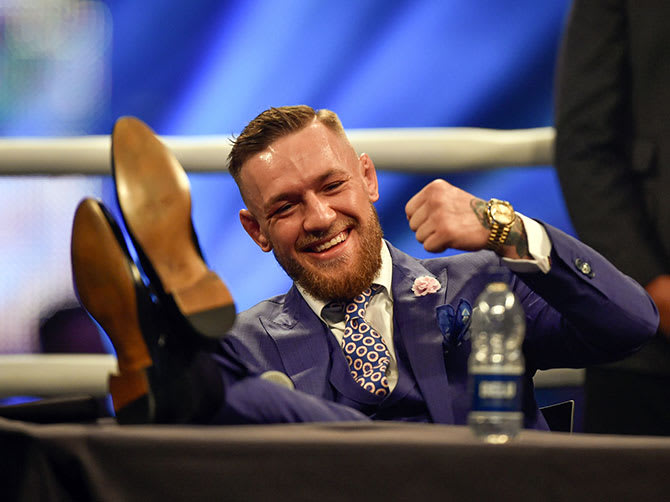 The first two-division champion in UFC history has, according to Atlas, won by playing it conservatively. The way Mayweather has played defense and expertly waited for his opponents to open themselves up to a counter is the same strategy McGregor has expertly deployed. Against Maywether, he'll have to be the aggressor.
"McGregor is going to put his fangs out and he's going to sink them into Floyd. Guess what? He's not that guy," says Atlas. "The funny thing is he's more similar to Floyd than he is to the guy they're promoting. His mentality is to be careful. I did my homework. His biggest wins are off the counter, being intelligent, being careful, being conservative, being Floyd!"
Whether Mayweather, at age 40, has enough power in his fists to knockout McGregor remains to be seen. Many think Mayweather will simply outlast McGregor over 12 rounds to capture an easy decision. With his 49-0 record on the line and massive expectations riding on him, Mayweather has a lot more to lose than McGregor. But in typical Floyd "Money" Mayweather fashion, he's not particularly worried.
"He can come at me different ways, it's not going to work," Mayweather said after the July 13th press conference at Barclays Center. "When a guy is across from me, you know what he has to say to himself? 'Damn, I'm fighting Floyd Mayweather.' When the bell ring nobody knows that squared circle like me. I know angles. I know where to touch you at. I know what you do good. I know what you don't like. And I don't have to watch tapes. That's something I'm blessed with."